Dr. V.Teslenko's
MUSICAL ELECTROSTIMULATOR
NEW WAY TO LISTEN TO THE MUSIC
FOR PHYSICAL AND EMOTIONAL CORRECTION OF HUMAN HEALTH UNDER CLINICAL AND HOME CONDITIONS
e-mail: emed@online.nsk.su, emed@gorodok.net
url: http://www.emed.gorodok.net
From ancient times favourable influence of musical compositions on the health is known. Now the musical treatment methods are actively developing.
The method of musical electrostimulation of reflex zones and acupuncture points is based on the combination of musical electrical pulses influence with simultaneous listening of the music.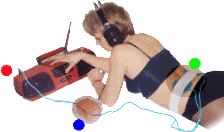 In the method the especially designed electrostimulator is used. The musical electrostimulator (110 x 55 mm x 30 mm in size, 200 grams weight) transforms the electrical signal from an usual music reproduction device (walk-player, tape recorder, multi-media system etc.). The electrodes with output signal should be imposed on the reflex zone of disease during 15-20 minutes 1 time in a day. The musical composition are selected by the patient himself following to the principle of a positive emotion presence.

The successful procedures of 341 patients including:
175 - Lumbar osteochondrosis,

108 - Chronic and critical pneumonia, bronchial asthma, chronic bronchitis,

35 - Deforming arthrosis of hip joints

6 - Prostate enlargement,

4 - Cervico-thoracal osteochondrosis,
4 - Allergical vegeto-circulatory disorders,
2 - Allergical rhinitis,
2 - Adrenexitis,
2 - Lumbalgia,
1 - Fotodermatitis,
1 - Neuro-circulatory distonia,
1 - Posttraumatic mielopatia,
was led with the method.

From 5 up to 12 musical electrostimulation sessions was led for all of the patients. Meridian measurements after R.Voll reveals the improvement of internal bodies' parameters after the course of the musical electrotherapy (in figure the field between the blue circles is the norm). At osteochondrosis treatment a pain sensation was reduced after 3-rd session, disappeared after 5-7-th session. Some patients stopped treatment under their initiative. At allergical rhinitis and allergical vegeto-circulatory disorders defeats disappeared after 2-5-th session. The meridian normalisation was marked after 6-8-th session. As a rule, latent diseases exacerbation did not occur during the treatment.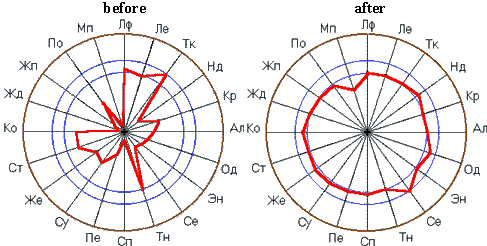 Fig.1. Meridian measurements after R.Voll
before (left) and after (right) the musical electrotherapy.
Musical electrotherapy represents a successful combination of East medicine ancient traditions and modern methods of the European physiotherapy. The method actively involves a patient in the treatment process, giving him to choose correct, unique for each person musical spectra with the medical influence. The designed musical electrostimulator is easy to use both in clinical and home conditions by user's instruction.

This site is under construction! Don't hesitate to ask for more with e-mail.